Wedding photos – wedding photo book – luxury service


Wedding photo shooting. Photos of couple, wedding preparations, civil ceremony and religious ceremony, cocktail, family, wedding party…

Wedding photo book or traditional photo album, DVD with your photos of a high quality for any rates and different requests.

The web site is available for any of your guests with a special password. Our time of presence depends on your request (from wedding preparation till 2 a.m.)

Make an appointment :-)


WEDDING GIFT / GIFTS FOR GUESTS
The best souvenir of the best day of your life is your photo. Think about wedding photo book, it is a good solution for keeping your memories and a wonderful idea for a gift.

Different examples of wedding book covers: metal-silk-Plexiglas-leather


Photo session before or after wedding
" Trash the dress "


This session is made after the wedding. There is a nice possibility for newlywed couple to put on their wedding clothes once again and to have fun.
An expression "trash the dress" is a little bit exaggerated, in the reality it is slightly wet or dirty after the session, anyway, to be honest, you won't wear it later!

This session helps to newlyweds to relax and to prolong the wedding adventure and to spend one more unforgettable moment together.
You are invited to discover some pictures of such session (see photos below)
It is possible to make this session in any place you want.

The session "trash the dress" can be also a kind of a second wedding day for people who want to spend a nice and cool time, to make some more beautiful photos without destroying the dress!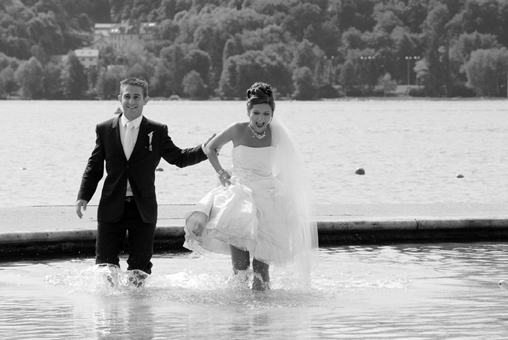 "Engagement session or lifestyle session"

Engagement session is a life style photo shooting which is made before wedding.
It is a possibility for a couple to meet a photographer in a quite and informal atmosphere. Normally, the couple chooses the place.

This session gives you the following advantages:
- to get used to a photographer and to accustom to the photo objective
-to learn more about each other and to feel complicity

Everything is permitted: funny and colored accessories, crazy clothes and disguise…